Balik lagi dengan postingan penghabisan sebelum kembali beraktivitas di kantor. Aku udah bayangkan nanti pasti susah lagi mau update blog hehe, so manfaatkan waktu dan kesempatan sebaik mungkin. Ohya kali ini bukan review produk tapi First Impression ya, bosan kan dari kemaren review produk terus hehe. Soalnya baru dicoba satu kali dan karena efeknya yang spontan mencerahkan dan Waw ! Aku ingin berbagi pengalaman dengan teman-teman yang penasaran dengan salah satu produk dari Cathy Doll (Karmart) ini.
Merk Cathy Doll sendiri udah tahu sejak tahun 2012 pas lagi booming yang Water Splash Essence, yang sampai ada thread tersendiri saking hebohnya bikin cerah secara instan. Konsepnya sih kayak Yesta Hand & Body Lotion itu yang digosok lembut trus dibilas, ntar hasilnya cerah. Kebetulan lagi saat booming ada iklannya di majalah fashion kesayanganku LOOKS Magazine, karena aku berlangganan jadi selalu lihat dan penasaran dengan produknya.
Penampakan Cathy Doll Water Splash Essence
Cathy Doll terkenal dengan komposisinya

L-Gluthathione

yang tentunya udah ga asing lagi di telinga kita. Fungsi Utamanya adalah sebagai anti oksidan dan diperlukan oleh semua makhluk hidup mulai dari manusia, tumbuhan, hewan. Penjelasan lengkap tentang
L-Gluthathione
bisa klik di wikipedia gluthathione dan artikel di merdeka.com yang semuanya lengkap membahas fungsi dari
L-Gluthathione
ini.
Secara garis besar, beberapa keutamaan
L-Gluthathione
- Sebagai Anti Oksidan dan melawan radikal bebas pada kulit
- Membantu mencerahkan dengan menghambat pembentukan melanin
- Meningkatkan produksi kolagen sehingga sebagai anti aging/anti kerut
Cathy Doll diproduksi di Korea tapi distribusinya dominan di Thailand, jadi pertama kali orang tahunya Cathy Doll dari Thailand.
Kali ini saya mau coba salah satu produknya yang lumayan familiar karena sudah banyak orang pakai, Cathy Doll Ready 2 White Milky Dress Cream Pack .
Aku kutip dari websitenya Karmart Thailand bisa dicek disini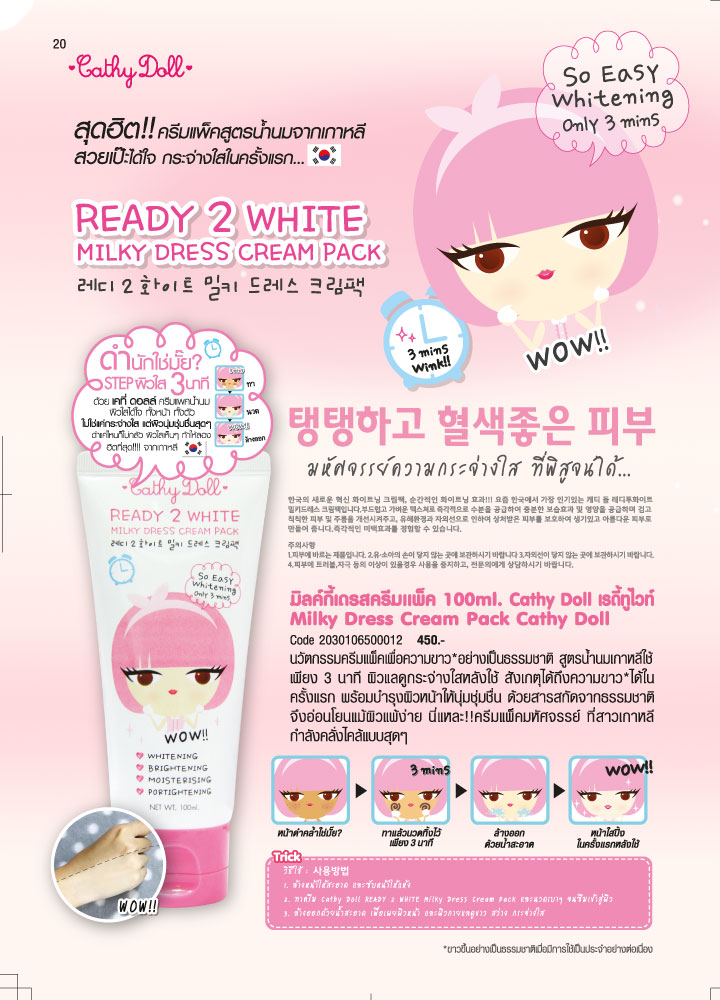 The new innovation for natural skin whitening with Korean milky extract would take effect within just 3 minutes! The natural extract nourishes all skin types including sensitive skin. Milky cream pack is the choice of many Korean girls.
Innovasi baru untuk kulit cerah alami dengan ekstrak susu dari Korea yang akan mencerahkan dalam 3 menit saja! Ekstrak alami yang menutrisi untuk semua jenis kulit termasuk kulit sensitif. Krim susu ini adalah pilihan banyak gadis Korea.
Spesifikasi
*Kemasan :
Tube berwarna putih kombinasi pink dan bahan plastik tapi lunak, tutupnya berwarna pink dan berbentuk flip top yang ada segel di mulut tube jadi higienis dan praktis. Di depan keterangan produk dalam bahasa Inggris, di belakang tertera keterangan produk dalam bahasa Thailand (nggak tahu artinya) dan ada gambar ilustrasi anak perempuan yang imut dan girly (suka suka suka)
*Tekstur & Warna :
Tekstur creamy lembut dan berwarna putih seperti susu.
*Aroma :
Aromanya seperti susu, lembut.
*Netto :
*Harga :
sekitar $ 18 atau Rp.220.000,- bervariasi tergantung beli dimana. Beli online atau langsung di countrenya di Mall Kota Kasablanka dan Mall Gandaria City
How To Use :
Clean up facial skin and dry with soft towels.

Apply Milky Dress Cream Pack and gently massage until it is fully absorbed.

Rinse off with water to reveal whitened skin
Cara Pemakaian :
1. Bersihkan wajah dan keringkan dengan handuk.
2. Oleskan krim susu ini dan pijat dengan lembut sampai krimnya terserap.
3. Bilas dengan air untuk hasil kulit yang putih cerah.
Produk ini bisa dipakai di kulit tangan dan kaki ya, tapi kali ini saya oles di kulit wajah dulu.
Bare face
Hasil
Setelah dibilas air, terlihat cerah, kaget banget pas lihat hasilnya, hanya dipijat 3 menit dan krimnya meresap, trus bilas air, taraaa,,, cerah seketika!
perhatikan perbedaan kulit muka dan leher, ada perbedaan warna, lebih cerah sedikit kulit muka
Whitening ? Yes
Brightening ? Yes
Moisturizing ? Yes
Poretightening ? Little a bit, I think Fifty fifty :)
Kelebihan :
- Kemasan yang praktis dan mudah dikeluarkan isinya. Desain kemasan lucu dan imut (sepertinya akan menjadi saingan Etude House hehe)
- Cocok untuk semua jenis kulit
- Cukup Affordable harganya dengan netto 100 ml dan cukup sedikit memakainya, tapi ini relatif ya, menurut saya cukup terjangkau
- Memberikan hasil yang cerah instan seperti taglinenya di kemasan "So easy whitening only 3 minute"
- Jika dipakai dalam jangka waktu lama bisa mencerahkan secara bertahap.
- Sangat reccommended untuk persiapan sebelum makeup ke acara-acara seperti pesta dan acara penting lainnya, karena memberikan tampilan yang lebih cerah
Kekurangan :
- Susah didapat di pasaran dan hanya bisa via online shop atau di counter di Jakarta (Mall Kota Kasablanka & Mall Gandaria City)
- Belum ada lainnya karena masih coba sekali.
*Rating :
*Repurchase ?
Yes. Maybe I want to try another series like water splash essence.
Buat teman-teman yang mau cari info lebih lanjut mengenai produk ini bisa diklik :
Jangan lupa ikutan Giveaway Beauty Purple Blog, MissLie Collection dan Cathy Doll Indonesia terbuka bagi blogger atau non blogger, mulai 24 Juli s/d 24 Agustus 2014 yang hadiahnya berbagai macam produk Cathy Doll untuk 7 pemenang. Bisa diklik Banner di samping kanan atas blog ini.
Thanks for Reading !
See You Next